KIDBAY PARTIES CATERING MENU
Kidbay Parties mission is to inspire all party goers to enjoy healthy, delicious and beautifully presented party food. As the only children catering supplier officially registered with local authorities in Sutton and Kingston, and awarded 5* food hygiene rating, we guarantee high quality childrens party catering. 100% satisfied clients and 5* Google rating is a great testament to our work.
You can choose any of the catering options below. Please feel free to mix and match, we are super flexible and open to new ideas. For example, if you are hosting a kids birthday party, why not order a stunning grazing table for the parents as well? If you have a favorite recipe you would like to include, just let us know and will do our best to add it to your party. With a range of dishes, including vegetarian, vegan or gluten free options, Kidbay can cater for any taste or dietary requirements. If you are looking for catering for corporate event, visit our sister company London Loves Catering.
Cold buffet kids menu includes selection of sandwiches, colorful fresh fruit and vegetable platters, savory finger food skewers and selection of sweet snacks.
Sandwich fillings: ham & cheese, egg cress, salmon & cream cheese, jam, cream cheese & cucumber, chicken mayo, tuna sweetcorn
Sweet treats: apple pancakes, apple muffins, chocolate or vanilla cupcakes, chocolate chip cookies, angel cake, chocolate dipped marshmallows
From £10.00/person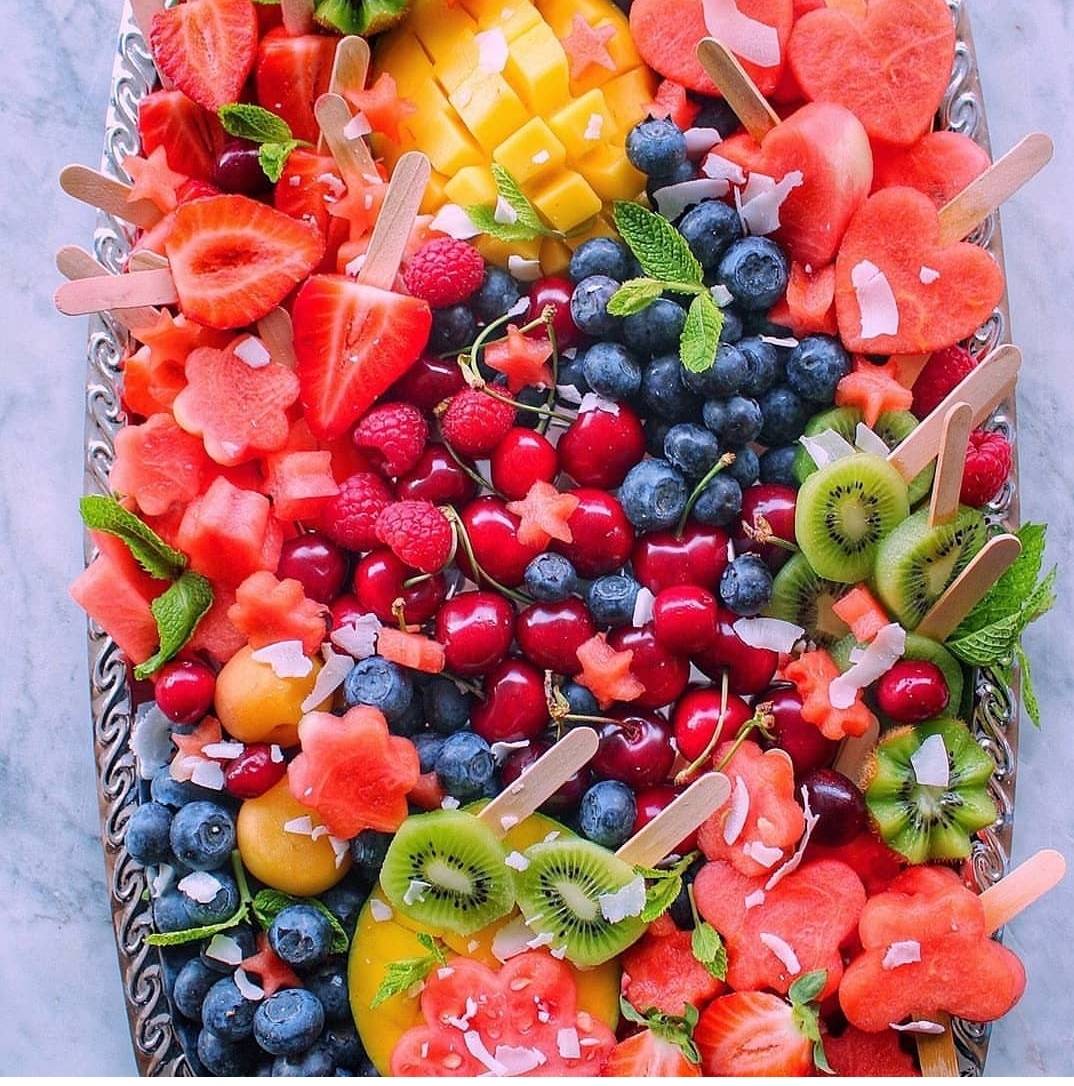 Hot & cold buffet includes all the cold buffet options PLUS a range of delicious hot finger food and plated food options that kids enjoy. It was developed with them!
Hot finger food: hot dogs, mini burgers (beef/veg), chicken wings, chicken strips, meatballs, potato fritata (Spanish omelet)
Hot plated food: meatball rigatoni in tomato sauce, tomato rigatoni, lasagne (beef/veg), sweet chicken rice, veg fried rice, jacket potato with cheese & beans.
From £13.00/person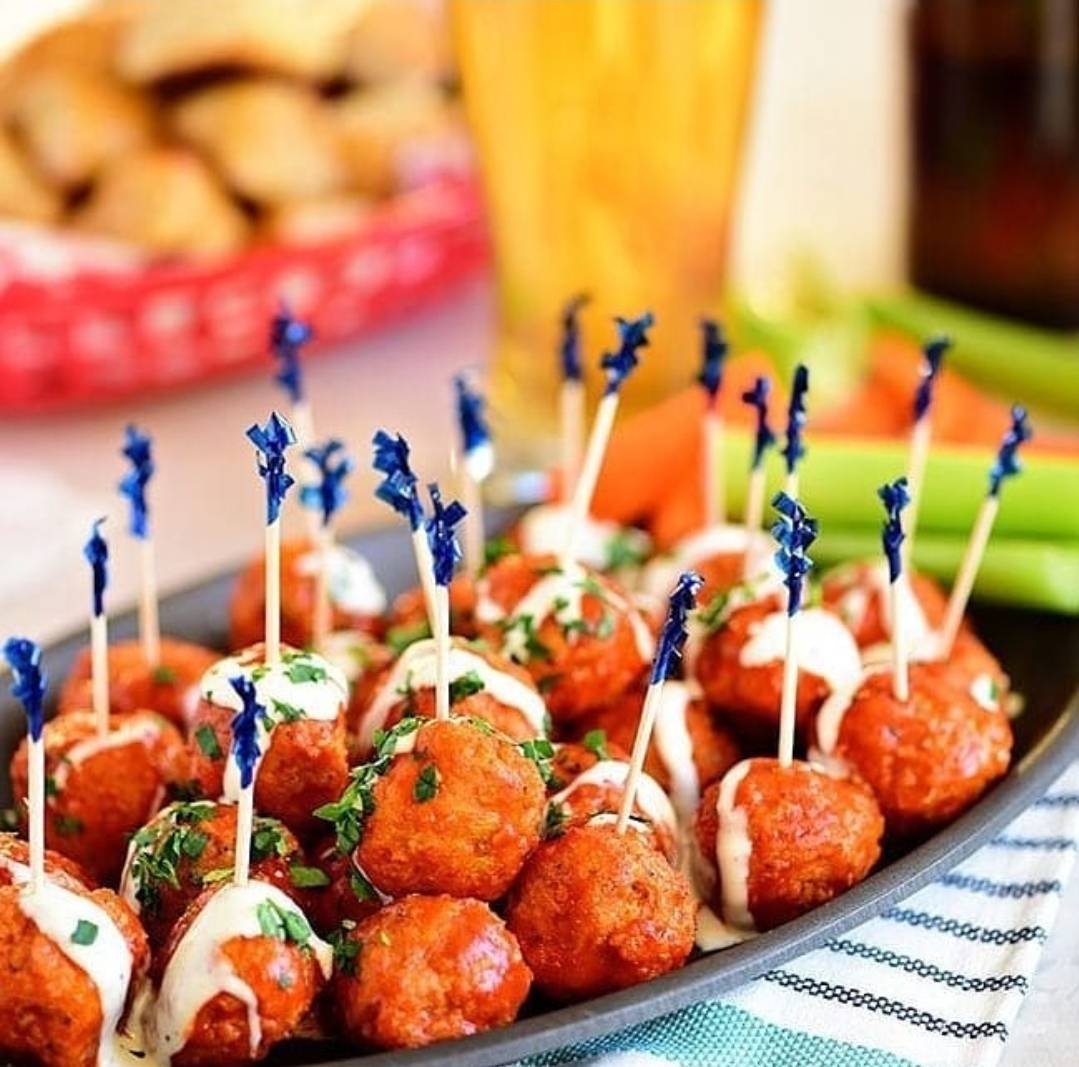 Dessert table options are endless. Our candy bars / dessert tables include variety of home made delicious cakes, cupcakes, cookies, biscuits, chocolate sprinkled fruit skewers, marshmallows dipped in chocolate and covered in crunchy sprinkles, crackers, crisps, colorful candies. If you have a color theme in mind - we can take care of the dessert table to make sure it matches beautifully.
All the sweets are displayed in such a delicious way that even grown ups will struggle to resist the temptation.
From £200.00/table (approx 30 people)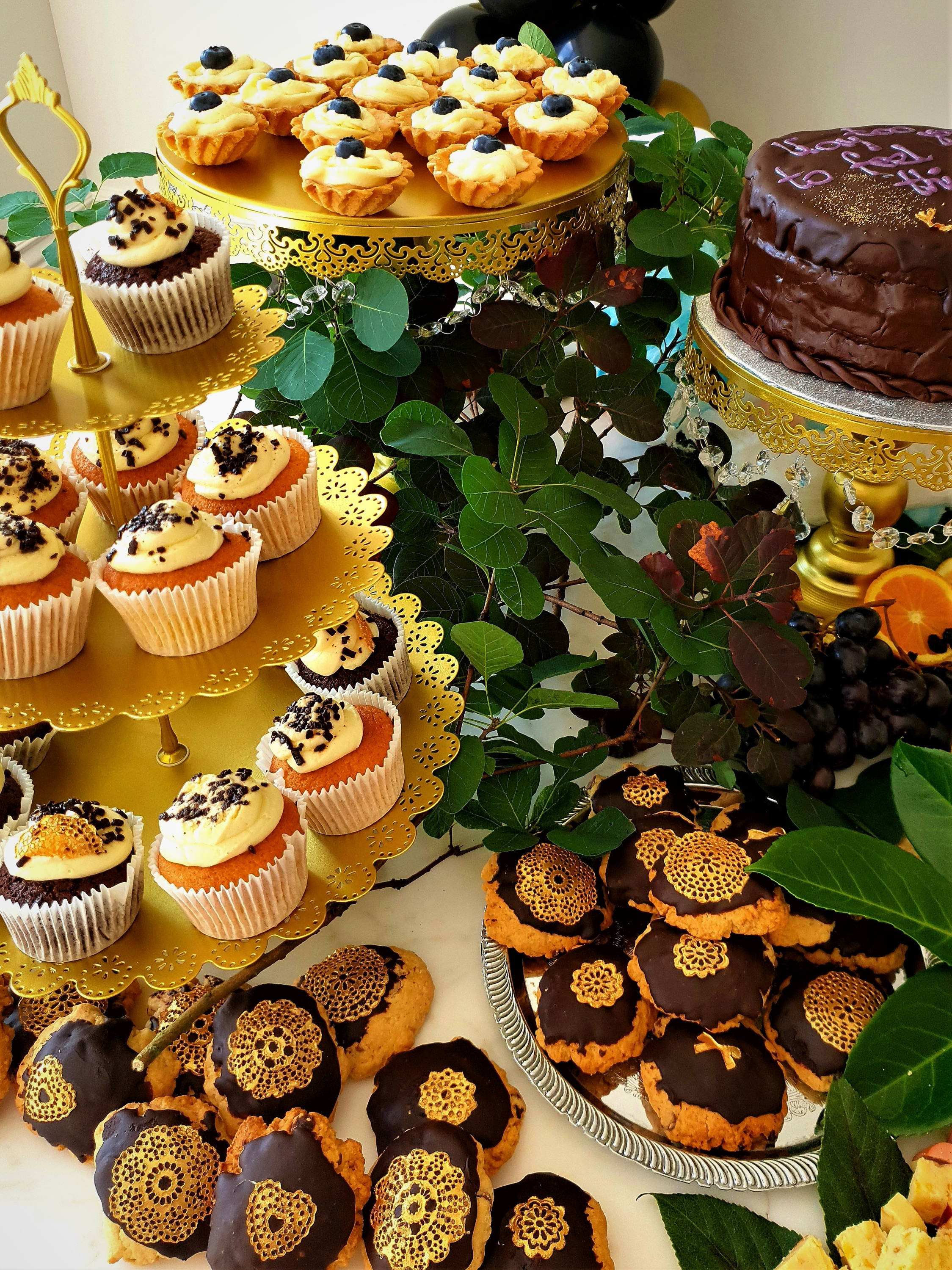 Adult buffet includes variety of international dishes prepared from the fresh and locally sourced ingredients, best meats and fish as well as range of vegan and vegetarian options. Take a look at the section below for a detailed sample menu.
Mix and match your main dishes, with sides and salads for an amazing culinary experience for all your guests.
From £10.50/person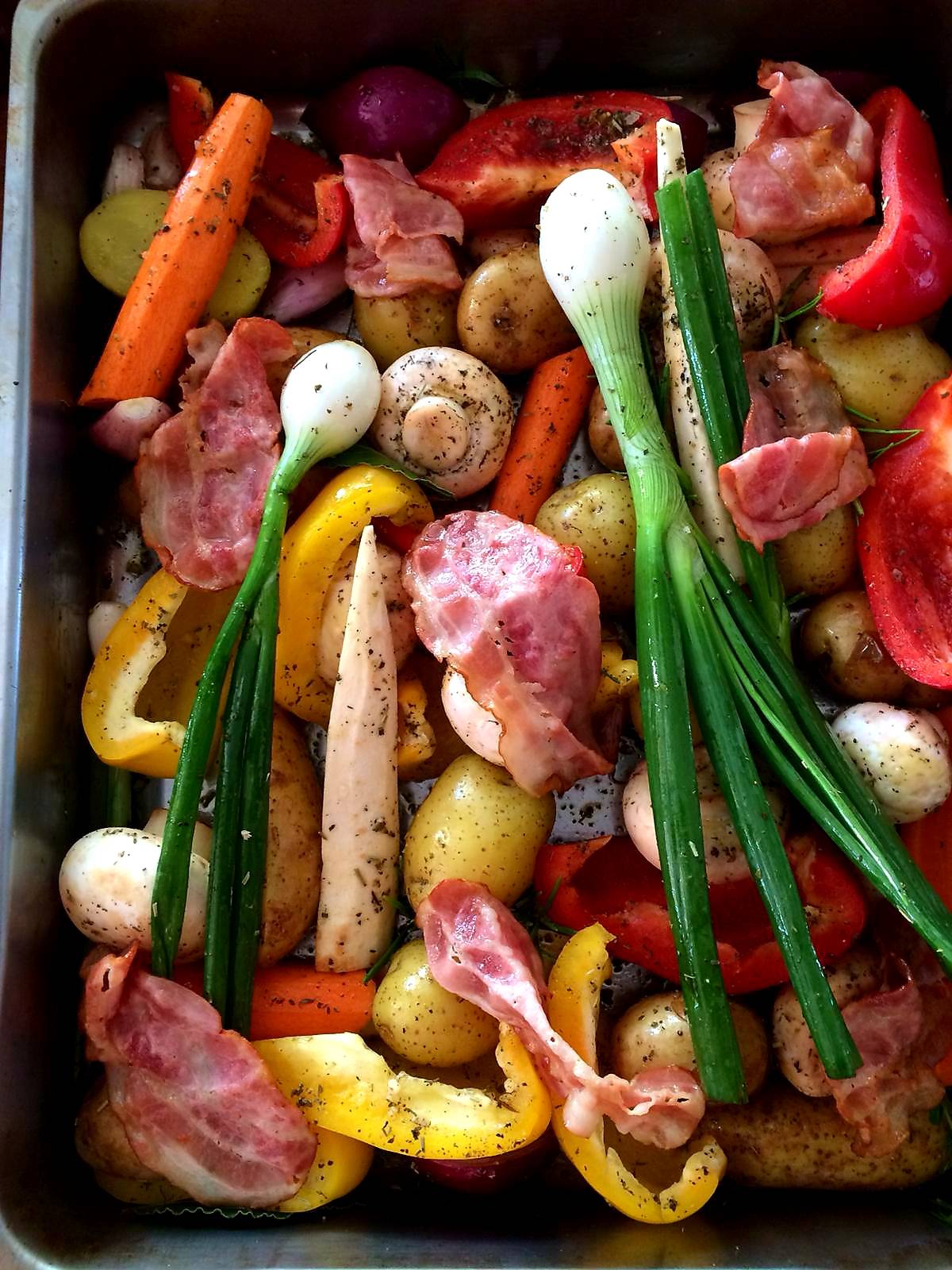 Beautiful, colorful, healthy and amazingly tasty combination of fresh and dry fruit, vegetables, cheeses, meats, crackers, nuts, and dips. Great for office lunches and family events or as a beautiful table centerpiece during large events.
We can also set it up in a form of a buffet for all guests to enjoy snacking while socialising and networking.
From £50.00/platter (approx 5 people)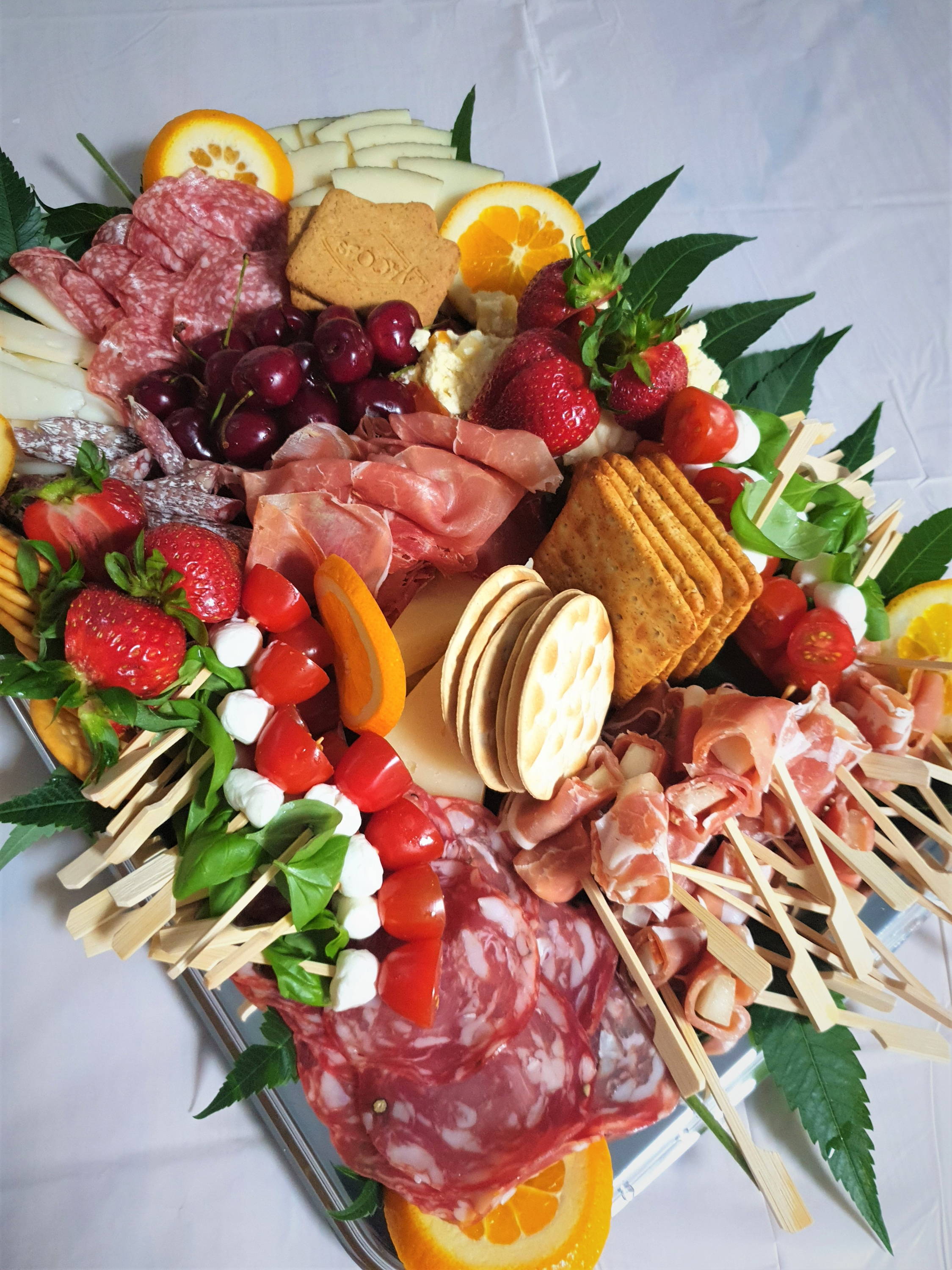 Trendy grazing table experience arrived to London from New Zealand around 2017. It is a buffet of new proportions and style! You can enjoy meters' long tables of best cold snacks you can imagine. Perfect for corporate parties, weddings and store openings.
Styled with fresh and dry flowers for the additional WOW-factor it is sure to impress any guest.
From £200.00 (approx 15 people)
Hot buffet sample menu
(Minimum order for 20 people)
Main dish options
Choose any dish and as many as you please @£6.50 per dish per person
Chicken dishes
Chicken devolay with cheese and pickles
Honey & garlic chicken leg with fresh cranberries
Roast chicken on a bed of vegetables
Sweet pineapple chicken
Chicken curry East African style (mild, medium or hot)
Pork dishes
Pork ribs in honey glaze
Pork ribs in onion gravy
Succulent slow cooked pork belly
Schnitzel
Pork shanks in beer marinade
Lamb dishes
Lamb and pepper skewers
Roast lamb shank in rosemary and garlic
Slow cooked marinated leg of lamb
Lamb curry East African style (mild, medium or hot)
Fish dishes
Whole sea bass in vegetables
Whole plaice
Milk infused salmon steaks
Greek style cod under a blanket of vegetables
Vegetarian dishes
Gnocchi with creamy mushroom sauce
Cauliflower schnitzel
Feta stuffed tortellini in tomato sauce
Mushroom stroganoff with campanelle pasta
Creamy courgette lasagne
Vegan dishes
Herby pearl barley with roasted butternut squash
Crispy kung pao cauliflower
Chickpeas with dates, turmeric, cinnamon and almonds
Moroccan veggie soup
Chilli with quinoa and black beans
Side dish options
Choose any dish and as many as you please @£1.50 per dish per person
Potatoes
Creamy mash potatoes with fresh black pepper and nutmeg
Parmesan potatoes with gherkin and spring onion
New potatoes with garlic butter
Chunky chips
New potatoes with dill sprinkle
Rice
Garlic infused basmati rice
Onion fried rice
Mixed vegetable fried rice (onion, carrot, corn, peas, green beans)
Plain steamed rice
Egg-fried rice
Grains
Couscous with orange
Lemon and almond couscous
Herb and ginger bulgur
Fresh herb and lemon bulgur
Breads
Garlic bread
Fresh baguettes
Plain or garlic naan
Basket of artisan breads (+£10/basket approx 5 people)
Salad options
Choose any salad and as many as you please @£2.50 per dish per person
As it is with desserts, there are endless options when it comes to the salad. We are huge salad lovers here at Kidbay Parties Catering so you can be sure that you and your guests will experience variety of colors, flavors and textures. Here are some examples, but please let us know if you would like to see particular salad at your party table and we will happily deliver.
Greek salad
Broccoli and crispy bacon with roasted sunflower seeds and almond flakes
Green salad (broccoli, lettuce, green beans)
Traditional coleslaw
Red cabbage coleslaw
Boiled vegetables (carrots, parsnips, green beans, broccoli, cauliflower)
Chinese lettuce & red peppers salad
Mixed leaf salad with goat cheese, walnuts and balsamic vinegar dressing
Tomato & onion salad

Feta, watermelon and parsley salad